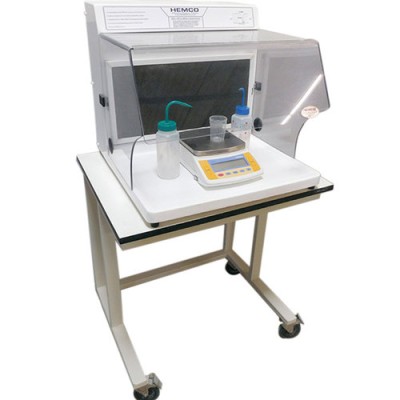 Microflow III and Accessories
Manufacturer: Hemco Corporation
Family Part #: HEMCO TSI-74011


The MicroFlow III Workstation ideal for: A class 1 ductless hood workstation. Equipped with activated carbon filtration, for fumes, odors, non-hazardous chemical vapors and particulate filtration.
• Completely self contained with integral recessed work surface to contain spills. Size 24" wide X 20.75: high X 24" deep.
• Clear hood surround with safety viewing sash allows visibility from 3 sides, and provides both safety and access to inside work area. Sash can be conformed for use with a microscope.
• Integral work surface dished to contain spills. Work area 15.5 inches high, 24 inches wide X 16.5 inches deep.
• Operates on 115V AC, or 230V International, conforms to UL, CSA, & CE requirements.
• Easy change out of used filter. Equipped with a Filter change light. Recommend filter change every 60-90 days or sooner. Filter life varies with usage.
• Electrical cord port exits both sides.