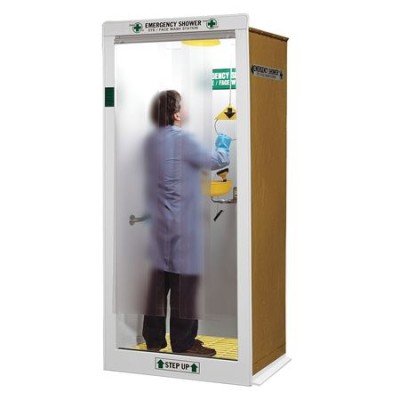 Emergency Shower Decontamination Booth
Manufacturer: Hemco Corporation
Family Part #: HEMCO TSI-16601


Drench Shower Delivers full body shower and eye-wash while protecting the laboratory from water and chemical damage. Overhead drench shower is pull rod activated for immediate response and ease of use.
OSHA & ANSI state that emergency shower is to be located within 10 seconds walking time from the hazardous site location
Eye / Face Wash rear wall mounted eye and face wash, features a yellow ABS plastic bowl, with two large plastic heads, and a push plate operated "stay open" ball valve.
Stainless Steel Grab Bars Support victim and rescue personnel during decontamination wash down.
Plumbing is provided, for installation by local certified plumber. Plumbed to single point 1-1/4¬ù IPT connection. Tempered warm water supply connection 20 GPM water supply is required.
Raised fiberglass deck with self draining containment basin, and 2¬ù diameter drain outlet located on either the bottom or rear of unit.