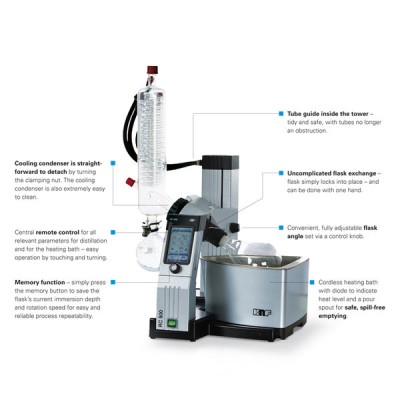 RC900 Evaporator With Fluid Condenser
Manufacturer: Knf Neuberger, Inc.
Family Part #: KNF TSI-RC900LUAU


Designed for everyday use, and tailored to practical
needs. The RC 900 makes rotary evaporation far simpler
and safer. This high-performance system is impressive
thanks to its intuitive handling and valuable functions
that provide outstanding support for everyday lab work.
Reliability, operational safety and precision come as
standard with the RC 900. Safety features add to the
advantages that make the system so suitable and
indispensable for precise distillation. Moreover the
RC 900 operates extremely quietly.

■ Sleek design, minimum footprint
The RC 900 takes up very little space and offers
maximum ease of use.
■ Whisper quiet for a pleasant working environment
The lift and rotation of the RC 900 are virtually silent.
■ Simple operation
The system offers central remote control for all
functions, and operation via touchscreen and
control knob.