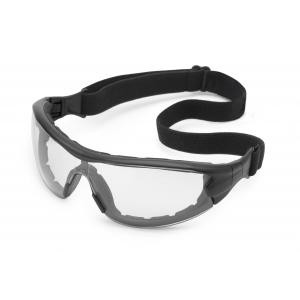 Swap Swap Spectacle/Safety Goggle Eyewear. Gateway Safety
Manufacturer: Gateway
Family Part #: GATEWAY TSI-21GB


Temples to head strap in seconds flat change your safety eyewear to meet your needs. That's how Swap™ protective eyewear faces down any workplace peril. Swap is two products in one' safety spectacle and a safety goggle. It comes with temples to use as glasses and a head strap to swap it to a goggle.

The Swap frame is lined with soft, smooth foam that blocks dust and debris. Venting channels minimize fogging for better visibility. Swap's stylish two-color temples are rubberized for all-day comfort, and the head strap is fully adjustable to fit any size head.

The Swap polycarbonate lens stands up to the toughest workplace archenemies with all-around impact protection that meets ANSI Z87.1+ and CSA Z94.3 standards. Swap also blocks more than 99.9% of UV-A, B, and C light.