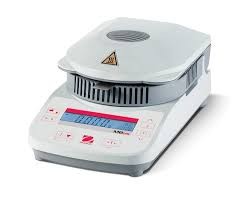 MB-27 Moisture Analyzer
Manufacturer: Ohaus Corporation
Family Part #: OHAUS TSI-30251683


The OHAUS MB27 Basic Moisture Analyzer combines high quality and durable construction into a sleek, compact design. The MB27 offers dependable, accurate results for a wide variety of moisture analysis applications.
Basic Features Include:
• Flexible Performance The MB27 provides accurate results at 0.01% (0.001g). With a large capacity of 90 grams, it is ideal for food, agriculture, chemical, pharmaceutical and other applications that require measurements up to 0.01% (0.001g).
• Simple to Operate Set up and operation is extremely easy. Just press and hold buttons to set drying parameters. The MB27 is ideal for routine tasks performed by operators of all skill levels.
• Compact, Easy-to-Clean Design The compact footprint (17 √ó 14 √ó 28 cm) of the OHAUS MB27 is designed to take up less space.
The easy-to-clean heating chamber is ideal for frequent use and inexpensive maintenance.