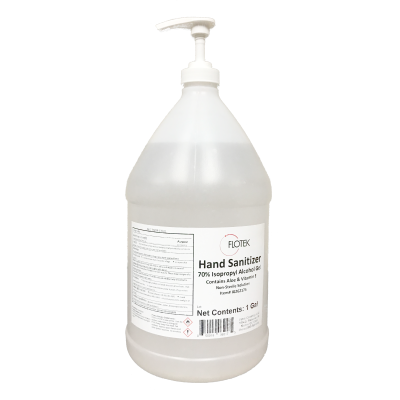 70% Isopropanol Gel Hand Sanitizer
Manufacturer: Flotek Chemistry, LLC
Family Part #: FC TSI-E00477


Premium hand sanitizers for commercial and personal use to help reduce the spread of bacteria. Our fast-drying liquid formulation enables convenient distribution on hands and surfaces. The Centers for Disease Control recommends hand sanitizer with the active ingredient greater than 60% ethanol or 70% isopropanol for healthcare settings and for consumer use. Product is sold ready to use.

Isopropyl Alcohol 70% Gel Hand Sanitizer is an alcohol-based hand rub used for hand antisepsis. Hand Sanitizer may be used by applying a small amount of solution to the palm of the hand and rubbing hands by covering all surfaces until dry. Recommended for external use only.
Hazmat Note :
This is a Haz-Mat item. Because Haz-Mat freight fees fluxuate, we do not currently sell this item online. Please
Contact Us
via phone or e-mail for a full quote.