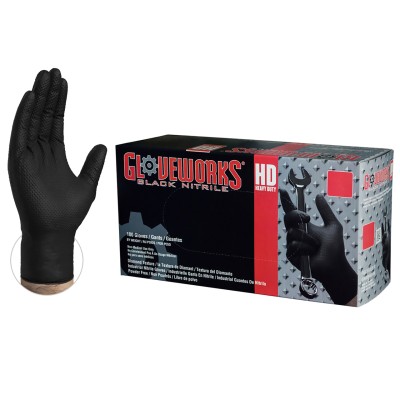 Gloveworks HD Black Nitrile Gloves
Manufacturer: Ammex Corporation
Family Part #: AMMEX TSI-GWBN


•Gloveworks HD Industrial Black Nitrile Gloves are constructed from durable 6 mil thick nitrile with raised diamond fully textured grip, measuring 9. 5 inches from fingertip to glove cuff.
•Industrial-grade nitrile gloves offer excellent elasticity, puncture resistance, and chemical resistance. Nitrile delivers a comfort level rivaling that of latex.
•Black disposable gloves look professional and conceal dirt and grime. They are a great fit for automotive, manufacturing, janitorial, plumbing, painting, and other industrial applications.
•Latex-free disposable gloves are ideal for those allergic to natural rubber latex.