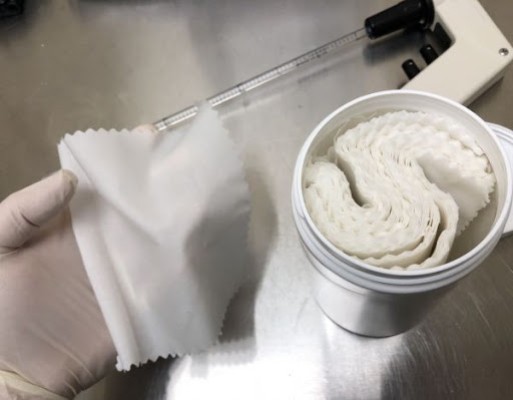 LabExact, IPA Wipes, Cotton Cloth, Non-Sterile (70% Isopropyl Alcohol) **IN STOCK**
Manufacturer: I.W. Tremont Co.
Family Part #: IWT TSI-IPA70-CW



LabExact (70% Isopropyl Alcohol, 30% Deionized Water) Cotton Cloth Wipes, Non-Sterile (pack of 80 wipes)

New Laboratory wipes for effective use on tables, counters, carts, fixtures, door handles, equipment, and more! These 6 x 6 inch 100% high purity, 3x rinsed virgin cotton cloth are ideal for use even when scrubbing tough messes in the lab. These wipes include excellent "lay-flat" characteristics with reduced pulling, tearing and bunching on rough surfaces. They are much thicker, wetter and more durable than synthetic non-woven veil materials.

Features:
• 100% high purity, 3x rinsed virgin cotton cloth – similar to that of a handkerchief or bedsheet. 400 thread count.
• 70% isopropyl alcohol meets major health and regulatory agency recommendation for concentration strength.
• 6x6 inch (15.2 x 15.2 cm) dimension ideal for full hand coverage in wiping.
• 80 wipes per container, each easily removed with gloved hand.
• Environmentally safe – Cotton is 100% biodegradable and incinerates cleanly.
• No dyes, ammonia, bleach or fragrance added.
• Gasket seal lid prolongs product life between usages.
• Proudly manufactured in the U.S.A.