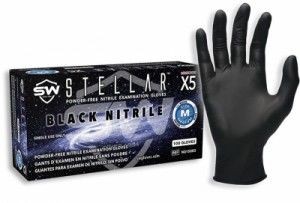 Stellar® S6 Nitrile Powder-Free Industrial Gloves EcoTek Biodegradable
Manufacturer: SW Safety Solutions Inc.
Family Part #: SW TSI-N71688


The STELLAR S6 nitrile industrial glove was designed as the go-to solution for 6 mil hand protection. Featuring a design that ensures the fingers and palm are the right mix of durability and sensitivity for fine detail work and dependable durability, SW's MilTek production process allows not only strong, high-dexterity performance but also ensures a tear-resistant cuff that makes donning and doffing a breeze.

Recognizing that environments are sensitive to chemicals sometimes left behind in the manufacturing of lesser gloves, SW has developed TouchTek which provides cleaner gloves and minimizes contaminates that can compromise work or add extra steps to preparation.

The STELLAR S6 is Dermatologically Approved by the Skin Health Alliance and has met stringent standards that ensure skin safety.

TouchTek™ On the outside, TouchTek technology reduces the contamination of sensitive materials and workspaces. On the inside, TouchTek reduces the chemicals that can be absorbed through the skin, leading to irritation or painful reactions.

MilTek™ A technology that delivers a more consistent thickness across the entire glove, minimizing the differences from finger to palm and from palm to cuff.

Non-latex nitrile offers superior abrasion and puncture resistance and the fully textured grip allows better handling of small parts and slippery objects.