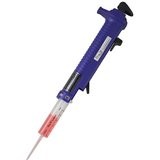 Scienceware Roxy M Repeating Pipettor
Manufacturer: Bel-Art Products
Family Part #: BEL TSI-F37895


This repeating pipettor provides accurate and reliable pipetting of volumes from 1 to 5000 µL. Ergonomic design provides a comfortable grip that is compatible with both right- and left-handed users. The convenient layout offers one-handed volume selection and smooth dispensing.

Robust construction and positive displacement operation result in precise dispensing of a wide range of liquids, including viscous, dense, and high vapor pressure liquids. Select the desired volume setting by turning the adjustment wheel, fill the tip by sliding the fill lever, and repeatedly dispense the desired volume in intervals as fast as one per second. A reassuring "click" will confirm each dosage.

The fully manual pipettor is maintenance free and factory calibrated with no internal parts for wear and tear. Every Roxy M. repeating pipettor is tested for operability and precision, and comes with a certificate of conformity and identified with a serial number.